Gifts take many forms including appreciated assets such as stock, naming Alfred Telewoda Endowment Fund as the beneficiary of a life insurance policy or retirement account, a bequest through one's will or trust, or by making a direct cash contribution. The Alfred Y. Telewoda Sr. Education Endowment Fund is managed by The Oklahoma United Methodist Foundation
The Endowment Fund  Account 2360 (Alfred Telewoda Endowment Fund), draws only from interest, never on principal. In this way we hope to provide every person, and principally our target group, the protection of understanding a little about their prospect…that there will always be My Heart's Appeal, Inc. (MHA). As an integrated part of our overall financial plan,  earnings from the principal will be  used to improve programs, grant scholarships, begin new programs or advance services.
Benefits from your endowment gift will secure the provision of the necessary condition and logistics required for the enhancement of the quality training and empowerment of the mildly, moderately, and severe intellectually disabled teens and adults in our program.The endowment panel of the Board of Directors has the responsibility for administration of these funds subject to the general Board. Precise records are maintained to ensure proper book-keeping of both principle and income.
Alfred Y. Telewoda Sr. Education Endowment Fund Honoree (1925-2004)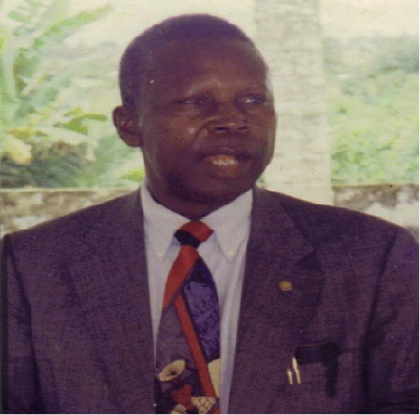 Click here to download and listen.
Alfred Yakpazuo Telewoda Sr. (AYT) was born in a little village called Wenwuta in Zorzor District, Lofa County, in what used to be called the Western Province in Northwest Liberia, January 10, 1925. He began his primary education from the Poro Society, where he got training in hunting, setting traps, driving the rice birds with slings, cultivating family values and respect for authority. His father dream was to send him to formal school, but there was no Education policy in those days designed and implemented by the government, especially for children of the provinces.  There existed a self-evolving informal education policy which Lutheran missionaries implemented for their school system.  The missionaries recruited one student per household in the village, most often a boy.  Yakpazuo was sent to the Zorzor Lutheran Elementary School.  To formalize the enrollment process, most students had to carry a Christian name like John or Joseph but Yakpazuo selected the name Alfred Brown from a storybook. It was advisable in those days not to carry your father's last name. In some cases students from the hinterland who were fostered by famous emigrant families carried the surname of those families.
By going to school Alfred had started his life as a civilized man. This in the Kpelle language means "Kwee", and in the Lorma language, "Weggie". He continued his education at the Muhlenburg Boys School in Millsburg, Montserrado County, where he completed his primary education in 1942. Firestone, the rubber and tire company in Margibi County, Liberia, employed him immediately at Division 42 in Harbel. He later sought employment at the College of West Africa (CWA), a leading high school in Monrovia, where he was later appointed business manager. Determined to further his education, Alfred applied to attend CWA. But the principal, Werner T. Wickstorm, denied his application on the ground that Alfred was too old to sit in the same classroom with younger children.  Later, Wickstorm changed his mind and allowed Alfred to enroll in 1951.  The young man completed his secondary education with honors in 1954. He later matriculated to Cuttington College and Divinity School in Suakoko, a liberal arts institution run by Protestant Episcopal Church of Liberia in Bong County. There, Alfred took the Bachelor of Arts degree in 1960. In December of that year he was employed with the United States Trading Company, now Coca Cola Bottling Company, where he served faithfully for 31 unbroken years until his honorable retirement in 1991 as Personnel and Public Relations Manager.
Alfred, a strong advocate for education encouraged all of his children to attain the highest education opportunities afforded to them. He was a devoted husband and family man.  He maintained his family and instilled work ethics and love amongst his children. He encouraged all of them to be their brothers' keeper.  Titema, the second to the last of the children was born with Down syndrome and an intellectual disability. She was denied education, because Liberia does not have institutions to fulfill her needs. This bothered Alfred, but being a fighter himself, did not gave up on the education of Titema. He had a dream that one day that opportunity would avail itself and all of his children would be given the chance to live out their God-given talent. Alfred departed this earth December 4, 2004. His legacy lives on.  The establishment of the Alfred Y. Telewoda Education Endowment Fund, will ensure that everyone can be productive, because they would have been given a chance.
This was Alfred's favorite philosophical quotation. One of the best known yet least known poems was published 100 years ago. It is the poem quoted by King George VI in his Christmas Day broadcast in 1939. It came at the end of the nine-minute broadcast:  I feel that we may all find a message of encouragement in the lines which, in my closing words, I would like to say to you: I said to the man who stood at the Gate of the Year, "Give me a light that I may tread safely into the unknown."
And he replied, "Go out into the darkness, and put your hand into the hand of God.
That shall be to you better than light, and safer than a known way." This courage now reflects as one of Alfred's daughter, Lovetie Major establishes My Heart's Appeal, Inc.