Note:  If using credit cards, we would appreciate if you add an extra 3% so that 100% of your contribution goes to MHA.  The 3%  transaction fee is automatically deducted by our service provided and goes to cover credit card fees, bank fees, and other processing costs. Order pick-ups optional at MHA offices by appointment only.  Call or email your orders. Walk-in payment options include credit/debit card, cash and checks.
Documentary

MHA Special Documentary
Lovetie Major in A Chance to Learn tells a heart touching story about the journey of Titema, her sister and her struggles and triumphs of overcoming the obstacles of having Down syndrome in Liberia, West Africa.
It will lead you on a journey of understanding of one Sister's love, commitment and vow to enrich her sibling's life by providing her with an opportunity to learn.
This documentary is both inspiring and uplifting and it will leave you with an enlightened understanding of how children with disabilities can embrace learning and be productive.
Running time: 60 minutes
(Special Bonus Features included)
Price: $20.00
Books

A Sibling's Vow
Providing an Education for a Woman Neglected in Liberia
by Lovetie Major
"Faced with her sister's limited prospects as an intellectually disabled woman in West Africa, Lovetie Major chose to make a way for Titema to receive an education and attain a high level of functionality in society. Her spark of faith ignited hope that she could provide the life Titema deserved. A Sibling's Vow reveals how a little light can brighten a dark situation."
5×7;112 pages – (paperback)
Price: $10.99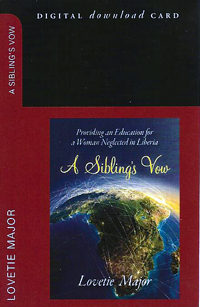 This book is also available for purchase as an eBook download.
Welcome to the world of eBooks where instead of receiving a physical paper book in the mail, you will receive access to the eBook file for this complete book. Unless otherwise noted, all eBooks are in the PDF format which is compatible with most eBook readers including Sony Reader, Nook, Kindle 2, iPad, and iPhone 4.
Read Tate Publishing eBook FAQ for additional information for your specific device.
Digital Download Card
Price: $9.99
Posters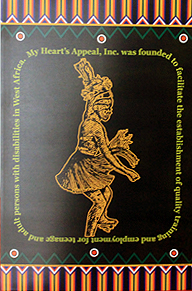 Cultural Dancer
Artist: John Lewis Dennis II
Dance and music are an essential component of village life in Liberia. The citizens dance and sing at celebrations and weddings, for the departed souls of the dead, on behalf of important visitors, and just for fun. Liberian dances are often distinguished for the energy and enthusiasm displayed by the dancers. As with most African dance forms, Liberian dances often reference not just the physical, but the spiritual as well. These dances are a way to protect and convey significant stories and traditions.
(full color, w/bleed) 12″ x 18″
Price: $15.00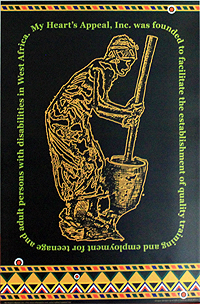 Heart of the Home
Artist: John Lewis Dennis II
Meals are, according to custom, eaten with hands only. Water is always provided to cleanse the fingers before, during and after meal. A piece of fufu is broken off and serves as your spoon as you dip into this or that sauce or side dish. Only the right hand is used for eating. The fufu is made from cassava. Cassava is a perennial woody shrub with an edible root, which grows in tropical and subtropical areas of the world. When the root is harvested, peeled and boiled, it is then placed in the mortar and pounded with a pestle and made into fufu. The mortar and pestle is considered the heart of the home, because most food are prepared in the traditional African home using them.
(full color, w/bleed) 12″ x 18″
Price: $15.00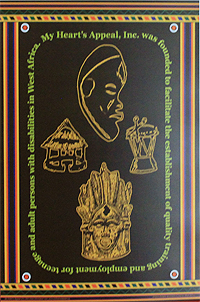 Town Meeting
Artist: John Lewis Dennis II
There are symbols that represent different things in the African culture. The symbols in this poster signify items present in a village gathering. The Palava Hut is a circular structure braced by sticks, covered with thatch that serves as a multipurpose area. The Drum exemplifies the medium used for communication. The Masks used during celebrations, initiations, crop harvesting, war preparation, peace and trouble times, are worn by a chosen or initiated dancer. They come to life, possessed by their spirit in the performance of the dance, and are enhanced by both the music and atmosphere of the occasion.
(full color, w/bleed) 12″ x 18″
Price: $15.00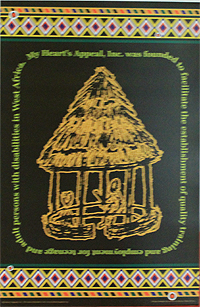 Palava Hut
Artist: John Lewis Dennis II
The Palava Hut is a circular structure braced by sticks, covered with thatch that serves as a multipurpose area. In this poster is a teacher in a rural setting teaching a child and the palava hut serves as a classroom. Education in Africa began as a tool to prepare the local youth to take their place in their respective societies and not necessarily for life outside of Africa. In other areas, education in early African societies included such things as artistic performances, ceremonies, games, festivals, dancing, singing and drawing. Boys and girls were taught separately to help prepare each sex for their adult roles. Every member of the community had a hand in contributing to the educational upbringing of the child.
(full color, w/bleed) 12″ x 18″
Price: $15.00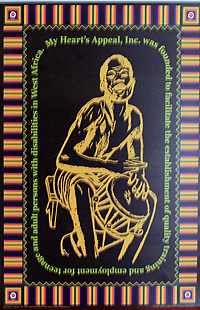 Drummer Boy
Artist: John Lewis Dennis II
The Drummer boy plays a noteworthy role in the traditional African society. The drums are an important part of the village communications system, with various drum rolls used to signal different commands from the town's chief and village elders. Although there were usually official age limits, these were often ignored; the youngest boys were sometimes treated as protégés by the adult skilled drummer. Rhythms represent the very fabric of life in Africa and embody the people's interdependence in human relationships. Drums are classed as membranophones and consist of a skin or "drumhead" stretched over the open end of a frame or "shell".
(full color, w/bleed) 12″ x 18″
Price: $15.00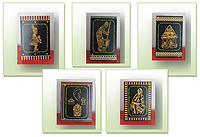 Set of Five Wall Posters
Artist: John Lewis Dennis II
Decorate your home or office with 12″ x 18″ beautiful bright color posters produced on digital offset printers using 100 lb gross weight paper stock. The artist who is from Liberia, created these unique designs to portray the traditional artistic perception in an African village setting. This rich heritage is revealed through the cultural dancer, heart of the home, palava hut, town meeting and drummer boy. Packaged and mailed in USPS standard medium flat rate box. Framed options at Wyman Frame & Supply at www.drtc.org. The grouping begins the conversation that a special needs child is not a forgotten child. Everyone can be productive, if given a chance.

12″ x 18″ (full color, w/bleed)
Price: $60.00
Greeting Cards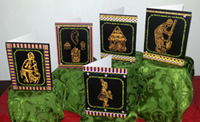 Set of Ten Greeting Cards
Artist: John Lewis Dennis II
These groupings of artwork by a Liberian artist feature the cultural dancer, heart of the home, palava hut, town meeting and drummer boy. It depicts a representation of an African village setting. It is packaged as a set of ten with a pair of each artwork. A2 – 4.375″ x 5.75″ envelopes were uniquely designed to compliment the 8.5″ x 5.5″ plain folded greeting cards with bright colorful art on the outside. The cards are sold shrink-wrapped. It is the perfect gift for parents of special needs children or anyone whose life has been touched by a special child.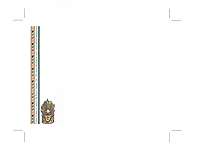 4.25″ x 5.5″ Folded Plain Cards
(outside full color art full color, w/bleed)
4.375″ x 5.75″ A2 Envelopes
(full-color/ partial left design)
Price: $10.00